---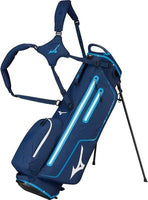 Sale
Introducing the NEW Mizuno K1-L0 Stand Bag. The Lightest Stand Bag Mizuno ever made!about 1.2kg in order to achieve the lightweight of the point that stuck?
Features
1.2KG WEIGHT ( Mizuno Lightest Stand / Caddy Bag in the History )
about 1/5 compared with about 6.0 kg of the heaviest MIZUNO TOUR SERIES PRO. In addition, in Mizuno's caddy bag, it is the lighter model than the lightest LIGHT STYLE NEXLITE about 2.3 kg.
Carbon Material Stand
In order to achieve the lightest, Mizuno uses Carbon as its stand part. Light yet Strong
Light but Strong Fabric
Compared with general polyester, light and strong nylon is adopted.