---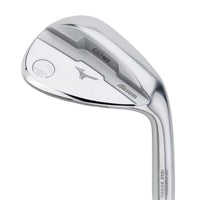 Sale
56 DEGREE/14 BOUNCE WITH TRUE TEMPER DYNAMIC GOLD WEDGE FLEX SHAFT.
The Mizuno S18 Wedges feature a mid-size, rounded profile, manufactured in Hiroshima Japan with Grain Flow Forged for the ultimate in short game performance. 
With the weight shifted up the blade is visible in a thicker, bevelled topline, in the higher lofts, delivering more consistent spin rates on strikes from high in the clubface (common with more extreme lofts). 
This is Mizuno's most loft specialist wedge in every way (sole grind, profile, top line and groove depth) from the 46-degree pitching wedge replacement to the 62-degree lob wedge.  
"One of the keys to a good wedge game is controlling your spin rates - there's no gain in making one pitch stop dead if the next one rolls out.  On the shorter shots, we're more likely to miss the sweet spot high on the face - which is a cause of inconsistent spin.  The S18 is thicker higher into the blade, which evens out the spin rates on those common miss-hits."  Chris Voshall, Senior Engineer
Rounded Silhouette:  Allows the blade to open without impacting alignment.
Thicker upper blade portion:  A thicker top line on the most lofted options delivers spin consistency from high on the face.
Forged in Hiroshima Japan at Mizuno's exclusive plant – manufacturer of Grain Forged heads for Mizuno for over 30 years.  Grain Flow Forged from a single billet for incredible feel and distance control. 
Loft Specific Performance:  Every loft has a unique profile, sole grind and groove depth to be most effective for their expected use.
Longer Lasting Grooves:  The use of Boron infused steel lengthens the durability of Mizuno's Quad Cut Groove, while maintaining Mizuno's renowned Grain Flow Forged feel.  
Precise Milled Face and Grooves:  A new milling tool means our tolerances are even tighter –taking our loft specific Quad Cut grooves even closer to the absolute USGA / R&A limitations.  
Black IP or White Satin. 
Black IP will wear away gently over time to reveal the durable chrome beneath.